By Dylan Cassard
French artist Jean "Moebius" Giraud
has passed
. He was a master of stippling, wordless storytelling, and inspiration to countless comic artists the world over. His use of negative space and scale gave his otherworldly characters weight within their truly alien surroundings.
Yet his style was ever changing. He always tried to challenge and reinvent himself. Yet his work always had a seemingly unseen signature.
he even worked at Marvel, drawing 2 issues of Silver Surfer with Stan Lee himself
One of the few sequential artists to cross over into the world of fine art, his designs can be seen in films like Alien, TRON, Willow, Little Nemo in Slumberland, The Abyss, and Fifth Element.
more Alien art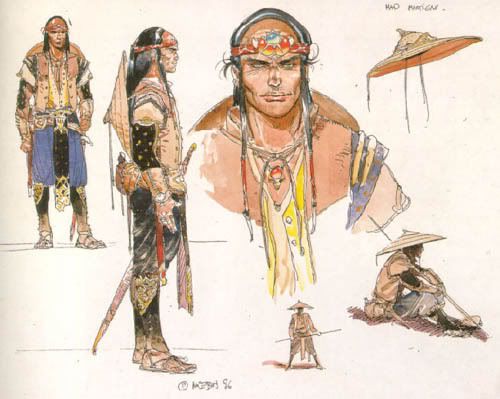 costume designs for Mad Martigan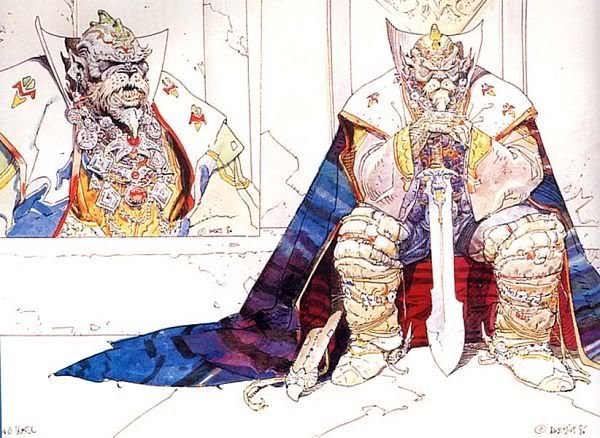 concept art for The King of the Nelwyns (what a different film it could have been)
the island prison of Fin Razel
Take some time out of your busy schedule and check out the
Quenched Consciousness
blog, because the majority of his work is out of print and rather difficult to come by. Ian Mac Ewan has put together an impressive celebration of Jean Giraud's work.
Hopefully, wherever he is, he is traversing the cosmos traveling to all the incredible worlds that were trapped inside his head.